The MAC ARS Species Study Group has focused on Gregory Bald, in the Great Smoky Mountains in Tennessee, for several years. After several years of annual hikes to this unique preserve of native azaleas, it was decided to organize aerial photography as a means of studying the azaleas on the mountain. In 2005 this was finally accomplished and a limited number of prints were made. The original photograph was 30 x 40 inches.
Prints are made for sale at the approximate cost of reproduction, for anyone interested. The 22 x 30 inch prints are available with a CD for $30.00. The CD contains a jpg file of the bald and a slide show. Contact Jim Brant at jandpbrant@verizon.net if you are interested.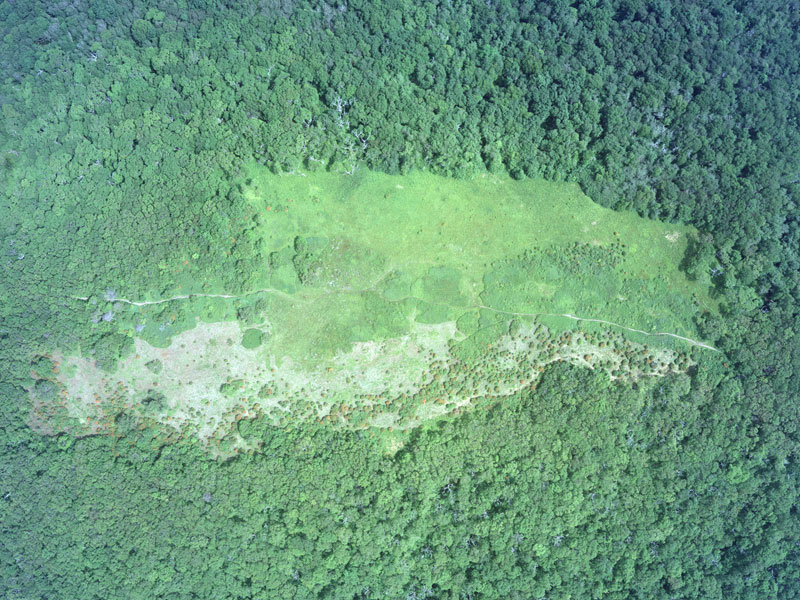 History:
After three years of climbing Gregory Bald in the Great Smoky Mountains in Tennessee, in search of a clear day when the azaleas were in their peak bloom, we finally on June 25, 2005 took "the picture". It was a great day when we got the call that between 11:05 and 11:14 a.m. that the shot was taken. Relief went through the MAC species group that it was done.
We now have our negatives from which to choose our picture. I rushed back down to Alcoa, Tennessee to the offices of Continental Aerial Surveys and with their help was able to pick out the outstanding negative. The next step was to get a 40" × 30" picture made and we were also able to get two CDs made, one of the entire bald and one with the bald broken down into eight sections. This made it possible to zoom into a section and see all the individual plants.
Without the help of the Smokey Mountain National Park Service personnel this picture would not have been possible. Therefore on November 29, 2005, the MAC species group sent me to present a 40" x 30" framed picture to the Superintendent of the Great Smokey Mountain's National Park Service, Mr. Dale Ditmanson. They propose hanging this picture in the Visitors Center at Sugarlands. This location is right outside Gatlinburg, Tennessee, at park headquarters.
On hand for the unveiling of this picture was Krystal Johnson and her crew. These people since 1989 have been trying to restore Gregory Bald to its original size. There were also a large number of Park Service Rangers there. I was also happy to see Herb Raser and his wife at the ceremony. This couple throughout the project would give us vital information concerning the weather and peak bloom time. Also in attendance were civilians like our MAC group who were interested in the preservation of Gregory Bald and the rest of the Great Smokey Mountains.
After presenting the picture I gave a Power Point show on the trek up the mountain showing beautiful mountain scenery and a large number of azaleas. These azaleas were put in different categories to show the diversity of colors on the Bald. This presentation was prepared by Don Hyatt. It became readily apparent to me during this presentation because of all the "Oohs" and "Aahs" that everyone was enjoying the show! The comment that I heard most often was…"I didn't know that there was such a large variety of colors on Gregory Bald".
The Park Service then thanked MAC for such a useful educational and scientific tool. They are sure many people will benefit from seeing this picture and realizing what a treasure we have in Gregory Bald.