Gen. Robert William Porter Jr.
Obituary: Retired Army Gen. Robert William Porter Jr., former commander in chief of the U.S. Southern Command, died Saturday in a Charlottesville hospital after suffering a heart attack. He was 91. Gen. Porter lived in Hood in Madison County, where he retired in 1969 after serving four years in Panama in his last cm post for four years. His last command, headquartered in Panama, covered Latin America. In 1969, he was briefly recalled to active duty as military adviser on then-Vice President Nelson Rockefeller's mission to Latin America. An Alma, Neb., native, Gen. Porter graduated from the U.S. Military Academy in 1930. He served in a number of posts including commander of the 2nd Armored Cavalry Regiment in Germany and a stint in France, chief of staff for X Corps in Korea, commander of the 3rd Armored Division in Germany, assistant deputy chief of staff for personnel for the Department of the Army and commander of the 1st U.S. Army before taking over the Southern Command in 1965. His decorations included the Distinguished Service Medal, the Legion of Merit with oak leaf cluster and the Bronze Star. After moving to Madison, he helped found the Madison Library, was active with the Boy Scouts and was a member of the Lions Club, the Ruritan Club and the Red Cross. He was a trustee of Bloomfield School in Charlottesville and was a member of Piedmont Episcopal Church in Madison. The Virginia Forestry Board recognized him as Tree Farmer of the Year in 1995. His avocation was rhododendron gardening. Gen. Porter was the widower of Margaret Trumbull Porter, his wife of 40 years who died in 1973. Survivors include two daughters, Celia Dollarhide, of Alexandria, and Susan Walker, of Kansas City, Kan.; two sons, Robert W. Porter III, of Burke, and Henrik Peterson Porter, of Camas, Wash.; and a brother, T. Reginald Porter, of Santa Rosa, Calif. A funeral will be held Thursday at 1:30 p.m. at Piedmont Episcopal Church in Madison. Burial will be private at Middle River Farm, his farm in Hood.
General Robert William Porter, Jr., Middle Atlantic Chapter, died April 22, 2000 in Charlottesville, Virginia at the age of 91. He was a retired four star general and former commander in chief of the U.S. Southern Command. He was active in community and church affairs and helped found the library in Madison, Virginia. He was recognized as Tree Farmer of the Year in 1995. He grew many rhododendrons and was very generous in donations to the chapter auctions. He served on the Chapter Board for many years. His daughter, Celia Dollarhide, of Alexandria, was a Chapter member [until her untimely death in 2012]. Another daughter and two sons survive. Seen in Mid-Atlantic Rhododendron News and Notes, May 2000, the newsletter of the Middle Atlantic Chapter, Dr. Sandra McDonald, editor.
Dr. Robert L. Kellogg
Long-time MAC member Robert L. Kellogg died on January 3, 2004. Dr. Kellogg was a former English professor and dean of the University of Virginia's College of Arts and Sciences. He had been a professor at UVA for 42 years. He retired from teaching in 1999.
He received his master's and doctoral degrees from Harvard University and his bachelor's degree from the University of Maryland.
He was fascinated with Iceland, became fluent in the language, bought a house there, researched Icelandic literature and spent many summers in Iceland.
Dr. Kellogg was devoted to gardening, taking after his father, a soil scientist. He was a member of MAC for many years and a good grower of azaleas.

Dr. John Neal, Jr.
Dr. John J. Neal, Jr., died Saturday, August 12, at Duke Hospital, Durham, NC. Dr. Neal had served on the MAC Board of Directors in the past. He had joined MAC in December 1975. He was active in several organizations including American Association for the Advancement of Science and our MAC Chapter of ARS, the Danville Life Saving Crew and the Hatteras Anglers. He had recently gone back to school to study painting and had become an accomplished painter. Memorial donations may be made to the Danville Life Saving Crew, 202 Christopher Lane in Danville, Virginia. Our deepest sympathy to his wife Caroline and to his family.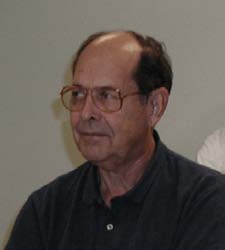 The End of an Era–Gladys Jenkins Wheeldon
Gladys Wheeldon, MAC member and widow of MAC Founder and orthopaedic surgeon Dr. Thomas F. Wheeldon, died on January 16, 2007. She was 94 years old. She had been a strong supporter of the chapter throughout the years even after Dr. Wheeldon's death in 1976. At the first chapter meeting held March 23–25, 1952, Gladys Wheeldon signed as a guest, apparently not having a separate membership, although playing a strong supporting role to her husband who served as president of the Middle Atlantic Chapter (MAC) for over twelve years.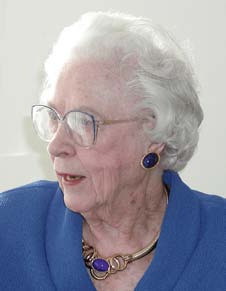 Mrs. Wheeldon had a membership in her own name after her husband's death for a total involvement with MAC and rhododendrons of almost 55 years. In the early years of the chapter Mrs. Wheeldon hosted many speakers for MAC at the Wheeldon's home in Richmond and was friends with early names in the rhododendron world such as Dr. Henry Skinner, Director of the U.S. National Arboretum; Frederic P. Lee, author of The Azalea Book; hybridizer Henry Yates; and Dr. Fred Coe. Some others she knew whose names appeared on the list of the first meeting and who are still remembered in the field were Joseph Gable, Anne Glass, Henry Hohman, Kenneth McDonald (Sr.), A.J. Shoosmith, L.G. Tingle, D.D. Withers, Peter Barber (of Exbury Estates -- whom she entertained), David Leach, and John C. Wister.
Mrs. Wheeldon received the Bronze Medal from the Middle Atlantic Chapter on May 10, 1980, for her generosity with time and money and sharing her garden, one of the outstanding ericaceous gardens in the South; and for sharing plants and cuttings, from Gladsgay as the garden and nursery were called.
She received the Award of Merit from MAC on April 26, 2003, for contributing to the founding, growth, and excellence of the chapter. She contributed many records of her own, as well as of Dr. Wheeldon and Gladsgay Gardens to the Rhododendron Manuscripts collection of the University of Virginia Library.
Mrs. Wheeldon was a financial benefactor for several rhododendron related causes including the rhododendron garden at the James Madison University Arboretum, the Middle Atlantic Chapter ARS, and the Rhododendron and Azalea Endowment Fund at the University of Virginia Library to which she made the key donation to get the fund started.
She was born and raised in Frostburg, Maryland. She graduated from Ohio Wesleyan University in 1933 and earned certification as a registered physical therapist in 1937. She was active in the Women's Board of Managers of Sheltering Arms Hospital and of the Richmond Academy of Medicine Auxiliary, the Council of the Virginia Museum, and several other organizations.
Mrs. Wheeldon was active in helping a group get Lewis Ginter Botanical Garden in the Richmond area off the ground and established for the City of Richmond.
Mrs. Wheeldon welcomed visitors to her garden even after she was widowed until she moved to Westham Green in Richmond. She will be remembered by those who knew her for her graciousness, hospitality, generosity, and wit.

Harry Wise--MAC ARS Member Extraordinaire by Sandra McDonald
MAC lost a very valuable member on January 18, 2007. Harry Wise had been recovering from lung surgery he had in the late summer and suffered a fall when he went out to get the newspaper in January and two days later died at a hospital in Huntington, WV. A memorial service was held at Coonskin Park, where Harry had been active in planting and working in the park. Two county commissioners and a former governor were among the group who braved the bad winter weather to attend the service.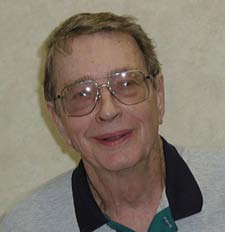 Harry had been very active in MAC and traveled long distances sometimes over icy roads from Charleston, WV, to most of the MAC meetings and board meetings wherever they were held. He joined ARS in 1965, was president of the chapter from 1981 to 1983, served as a MAC director, ultimately becoming Director Emeritus, a position he held at his death. He received the chapter's Bronze Medal in 1984. One very valuable job Harry did was act as Chairman of the Nominations Committee where he could be counted on to come up with good candidates to fill officer and board positions over many, many years. He also started the chapter's Seedling Sale with proceeds totaling over $2500 going to the ARS Research Foundation over a period of years. Harry was active in helping establish the Rhododendron and Azalea Endowment Fund at University of Virginia Library and the Rhododendron and Azalea Manuscripts Collection.
Harry served as an ARS District Director from 1988 to 1991. He received the American Horticultural Award of Merit in 1997 from the Garden Club of America, presented by the Kanawha Garden Club in recognition of his work for the ARS, the Master Gardeners, and Friends of Kanawha County Parks (Coonskin Park). Harry did much volunteer work at Coonskin Park planting, caring for, and maintaining rhododendrons, lilies, and irises. Harry said, "Plant propagating is one thing I truly enjoy. It's the science behind it. "I grew up on a farm in Southern Alabama. I learned I did not want to be a farmer. That is work. This is fun."
Harry was a busy pollinator and hybridizer. He ran out of planting space for his seedlings and gave large numbers of them away. Many people will remember him fondly when they look at a mature seedling he gave them as a small plant.
Harry did not blow his own horn. He did so many things behind the scenes, helping people, cheering them up and helping them through difficult times. He will be remembered by many of us for his wise counsel. He was unfailingly generous, touched people of all ages, and expanded public awareness of Rhododendron. He was an enthusiastic worker, a good communicator, and expressed his opinions fearlessly. He had a good sense of humor and shared it with the chapter in some presentations he made. He was a faithful supporter of the chapter newsletter and supplied many leads and articles for it.
In 2004 Harry was honored with the ARS Silver Medal. Frank Pelurie had picked up the medal at the meeting in King of Prussia that Harry was not able to attend and later presented it to him.
Bob Schwarz of the West Virginia Gazette in an article about Harry after his death included this comment from a Master Gardener about Harry, "He was a cranky old guy, and I loved him dearly. You always knew where he stood on an issue, but it was never personal. He would blow off his steam, and then turn around and be as sweet and helpful as could be." She must be young!
Harry was no friend of deer since they destroyed so many rhododendrons. It is perhaps fitting that Doug Jolley, who arranged the memorial service for Harry, had to move a dead deer from his driveway the morning of the service before he could get out of his driveway.

Merl Audra Aitken
Longtime MAC member Merl Audra Aitken of Charleston, WV, died on February 2, 2007. He is survived by Margaret W. "Maggie" Aitken to whom he was married for 64 years, two sons, a daughter, several grandchildren, great grandchildren and other extended family.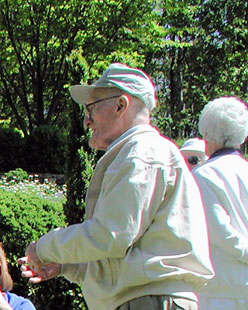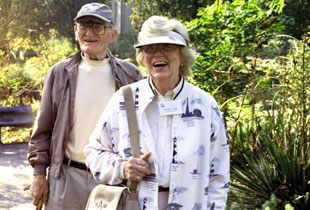 Wally McKay
Walter (Wally) B. McKay, died on May 16, 2008 in Palmyra, Virginia, after an extended illness. Wally was the husband of Jane McKay, MAC membership chairman. He had come to a number of meetings before his illness. Besides Jane, he leaves a son, Darren, and daughter-in-law, Denise, and three grandchildren, Glenn, Danny, and Samantha.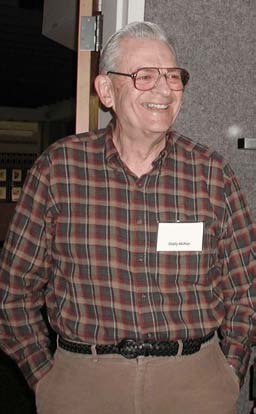 Jim Bowyer
Longtime MAC member Jim Bowyer, 84, of Mt. Nebo, WV, died on June 30. His widow, Doris, two sons, three daughters, and grandchildren survive him. Jim was the owner/operator of Bowyer Mining Supply established in 1961.

Frank Arsen
Frank Arsen, a MAC associate member who lived on Long Island, died on June 25. Frank was 93 years old. Frank was a long time hybridizer. His hybrids inlcude 'Agateen', 'Amber Lantern', 'Ambrose Light', 'Arsen's Pink', 'Arsen's Rose', 'Bud's Yellow', 'Dora Frank', 'Gay Arsen', 'Irene Virag', 'Jim Fry', and 'Pride of Lindenhurst'.

Nancy Swell
Former MAC member Nancy Swell died on June 30 at the age of 80. She and her husband Leon ran a gardening business, Swell Azaleas, for 23 years in Henrico County. Nancy maintained over 700 azaleas at her home. She is known for discovering 'Pocono Pink" azalea and for the Ghost Fern.

David French Sauer
Long-time MAC member David French Sauer of Chester, Virginia, died on January 12, 2009. He was born in Richmond in 1929. David was an artist with a B.F.A. from Richmond Professional Institute (now VCU). He received a M.F.A. from Columbia University in Oriental Art History and also did further post graduate work there. He specialized in Southern Sung painting. He came back to Richmond and taught art at VCU. Later photography caught his interest and he studied under Ansel Adams at the Yosemite Workshop Series. During his impressive 60 year career as a painter he exhibited in New York City, Atlanta, Richmond, North Carolina, Virginia Beach, Norfolk, and San Francisco.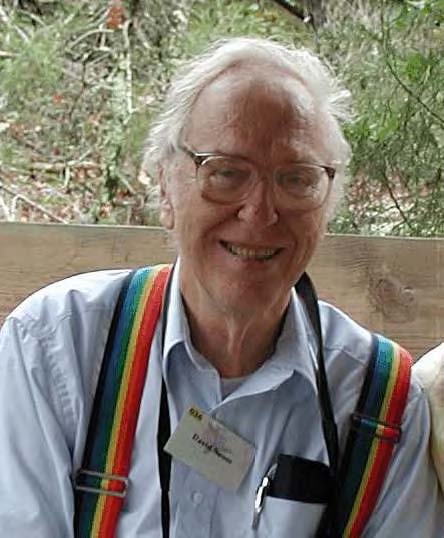 David was a strong supporter of MAC since about 1976 and was well known to all the members who attended meetings. He was especially interested in evergreen azaleas, and he and Debby had fine collections of them, including some rare kurumes. They opened their garden in Chester for many MAC garden tours. David also gave talks about azaleas and had a Web site about them.
David and Debby were in the MAC Species Study Group and were among the group who made the famous extra long hike up Gregory Bald when the bridge was out.

John Withers
Long-time MAC member John Cure Withers, 87, of Mc-Gaheysville, Virginia, passed away on Thursday, January 29, 2009. He was born in Roanoke, Virginia on Dec. 10, 1921, and was a son of the late Douglas and Dorothy Cure Withers. John's father Douglas (known as D.D. to MAC friends) had been a MAC member for some years previously. John had been a member since before 1967.
John graduated from Roanoke College and was a World War II Air Force Veteran with the 339th Fighter Squadron. Among his accomplished citations, Captain Withers received the Distinguished Flying Cross Air Medal with seven oak leaf clusters. John was a nurseryman and owned and operated Hi-Meadows Gardens in Mount Solon for many years. He enjoyed raising horses, cattle and tending to his azaleas and rhododendrons.
His wife LuDean Withers survives as does his daughter Dell Taylor (also a MAC member) and two sons, Dean Withers and John Withers, brother Douglas Withers and six grandchildren.
John was MAC's first P4M (Plants for Members) propagator back when Austin Kennell instigated our program before the Sheuchenkos then David Lay took it over. John took cuttings from some of his own plants and probably others also. John had been active in the chapter until the last few years.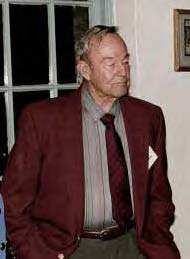 Photo by W. Przypek

Dr. John L. Creech: Remembering a Legend
by Don Hyatt (reprinted with permission)
It is with great sadness that I learned of the passing of Dr. John Creech. He died on August 7, 2009, at the age of 89. As one of the preeminent Directors of the U. S. National Arboretum, he was responsible for many of the facility's salient features and I want to take a brief moment to reflect on a few of his many accomplishments.
Dr. Creech had a distinguished career as a plant scientist in the U. S. Department of Agriculture that lasted 33 years. From 1973 until he retired in 1980, he served as Director of the U. S. NationalArboretum. During World War II, he also served in the U.S. Army, but spent from 1943 to 1945 in a German prisoner-of-war camp. Always the horticulturist, he raised food on a plot of ground at the camp to help feed his fellow POWs. He was awarded the Bronze and Silver Stars for his valor.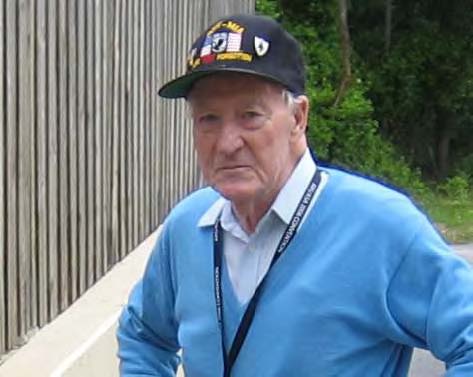 In addition to 10 different plant collection trips to Asia focusing on the introduction of new plant material, some of his most notable contributions to the Arboretum included significant expansion to the Azalea collection, the creation of the National Herb Garden,and the establishment of the National Bonsai & Penjing Museum.
I feel very fortunate to have been able to spend an afternoon with Dr. Creech at the National Arboretum during the 2006 ARS/ASA Convention we hosted in Rockville. I regret that I didn't have my camera or video camcorder with me to record every moment. I really appreciate the above photo taken by Dr. Hartwig Schepker that day. I will try to share a few of my memories on perhaps the final time Dr. Creech visited the Arboretum.
I have always attributed my interest in azalea hybridizing directly to Dr. Creech and I was happy that I had a chance to tell him so that afternoon. It was probably in the mid 1960's, before Dr. Creech had become Arboretum Director, when my parents took me for the annual trip to see the azalea display. Dr. Creech had set up an exhibit of evergreen azaleas to explain about hybridizing and asked people to vote on their favorite seedling.
All of the azaleas were from the same cross, and I remember being enamored by the subtle variations in color, flower shape, and size. The flowers ranged from pale lavender to pure white, and some had occasional purple flecks. Every azalea was beautiful and it was hard to decide, but that was the point I realized I wanted to make my own azalea crosses. The large hose-in-hose white must have won the popularity poll that day. Creech named it for the First Lady, 'Mrs. L.B.J.'
One of Dr. Creech's greatest contributions surely is the world-class bonsai display at the Arboretum. He was the one responsible for obtaining that initial collection of dwarf trees and viewing stones, and that soon led to the National Bonsai & Penjing Museum, undoubtedly one of the finest collections outside of Japan.
That afternoon we walked through the Bonsai Pavilion including some of the "back rooms" while Dr. Creech shared so many marvelous stories. As we walked under the row of huge Cryptomerias flanking the main entrance to the Pavilion, he remarked how difficult it was to locate those matching specimens. He was glad to see that they were still growing so well.
We admired the various bonsai trees on display and he seemed to know each one personally. In work areas behind the scenes, he even recognized some of their original pots. He had a sparkle in his eye as he reminisced about so many little details during his tenure at the Arboretum.
Japan had offered the U.S. a collection of bonsai trees to honor our Bicentennial, so Dr. Creech and an assistant traveled to Japan to see that it became reality. Like any good plant collector, he brought back every plant possible on that trip, 53 bonsai, many of them centuries old, plus 7 viewing stones. Creech said there was no question that he would accept the priceless gift to our country, but he just wasn't sure how he was going to get them safely back to the United States.
He told us it would be easier to be forgiven rather than to get permission from the government in advance to do what needed to be done in order to guarantee safe shipment. Rather than packing the trees in crates and sending by standard methods that could damage them, he decided to charter a huge 747 jet and fly them home, first class. He had no idea how to pay for the shipping expense but he would worry about that later.
They first removed all the seats from the plane, then secured the bonsai to wooden pallets, and finally bolted them down so they wouldn't shift. By the time all the trees were loaded, there was no room for people so they curled up underneath the plants for the long flight home. The bonsai arrived in perfect condition but he admitted he was stiff. We thank you Dr. Creech! You will be missed!

Jane Goodrich
Jane Goodrich, widow of Ray Goodrich, died on November 21st after suffering a stroke earlier in the week. Jane was a member of MAC and also Potomac Valley Chapter. She knew a lot about the Gable rhododendrons and had been one of the original members of the Gable Study Group. The committee was headed by the late George Ring who worked with Caroline Gable and others documenting the work of Caroline's father Joe Gable. They transcribed his personal notes and letters, investigated his nursery records, and studied his plants in the woods at the Gable farm. The book Hybrids and Hybridizers by Livingston and West, has a summary of their work.
Jane had been a MAC member for many years although she had not been able to come to recent meetings.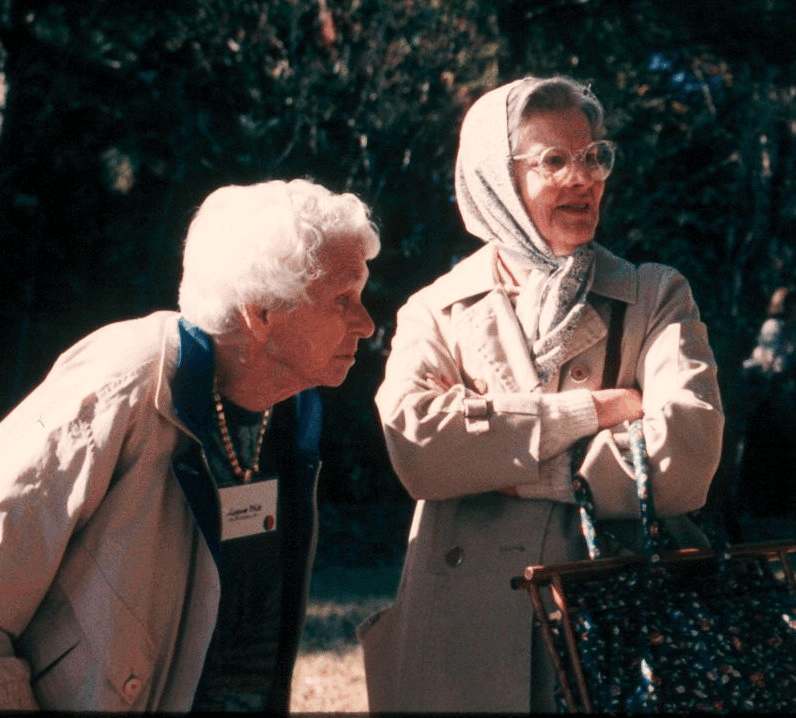 Margaret K. White
Long-time PVC and MAC member Margaret Keister White died on January 5, 2010, at age 103. She would have been 104 in March. As many of you know Margaret had made plans to transfer her 13- acre garden in Falls Church to the Fairfax County Park Authority. It is supposed to become a horticultural park. The Potomac Valley Chapter had held picnics there for many years and Margaret's garden has been on tour for Rhododendron enthusiasts many times.

Jim Randall
Former MAC member James R. Randall of Willoughby, Ohio, formerly of St. Albans, WV, died on May 23rd. Jim worked at Carbide and Carbon Chemicals Company, a division of Union Carbide, South Charleston, West Virginia, where he knew Harry Wise.
Joseph Svobota
Former MAC member Joseph Svobota died this summer. He was an ophthalmologist in the Richmond area.

Ray Brush
Forrest Raymond Brush, 90, of Charlottesville, Virginia, died July 4, 2011 after suffering a fall. Ray served in the Army in Europe during World War II. After returning home he attended Michigan State College and received both BS and MS degrees. He worked for the USDA, and eventually joined the American Association of Nurserymen where he was quite active. He and his wife Betty moved to Madison, VA, in 1986 after his retirement. They moved to Westminster Canterbury of the Blue Ridge in 2004 and then Ray became a Master Gardener. Ray was MAC Secretary from 1993 to 1996. He then became treasurer from 1996 to 2000. Ray received the MAC ARS Bronze Medal in 2001. Ray is survived by his wife Betty, his children and grandchildren.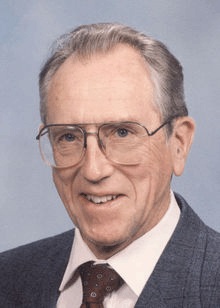 John Buschmann
John Buschmann John B. Buschmann, 88, US Air Force, retired, of Bear Garden Farm in New Canton, Virginia, died on October 22, 2011. John was a P51 Mustang fighter pilot, and later a test pilot and flight instructor. At Bear Garden Farm he was an active farmer and participated in several organizations. He was into conservation and was helping to restore the American Chestnut trees and blue birds. John was a great source of support for MAC both through financial contributions and his educational efforts promoting the culture of rhododendrons at many meetings including several workshops at Bear Garden Farm. He was very social and often found talking about his favorite plant and animal conservation projects during the MAC social hours. John served on the MAC board of directors in the mid 1980s. He received the MAC ARS Bronze Medal in 1990, and the Award of Merit in 2004. John is survived by his wife Jean, his children and grandchildren.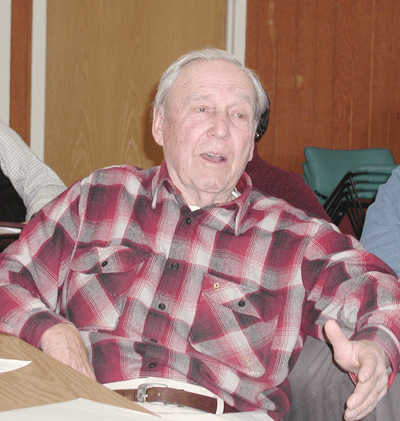 David Lay
David Lay, 80, of Weems, VA, (PO Box 773, Irvington, VA), died on October 20, 2011. He grew up in Greenwich, Connecticut, and Santa Fe, New Mexico. He graduated from Groton School and received his degree from Harvard College. He was a career officer with the Central Intelligence Agency, specializing in East Asian political affairs. He was stationed in the Far East for several years where he had his family with him. David was a bibliophile and liked to play chess. David's father who ran a bookshop died when David was in his teens. In the mid-1970s David moved his family from Alexandria, Virginia, to the Northern Neck where he opened Northern Neck Nurseries, specializing in azaleas and camellias. He joined the MAC ARS in this time frame, his first meeting being in the fall of 1978 at Poor Robert's Retreat. He was an avid plantsman and active in many plant societies. David and his wife Mary Lloyd had a beautiful garden which had even appeared in a TV gardening documentary. They welcomed visits to their garden for many meetings and even hosted two luncheons during MAC tours. David grew plants for the chapter's Plants for Members (P4M) program for about 20 years, starting about 1983. He was chairman of the huge plant sale at the 1988 convention. David had served on the MAC board and was its president from 1985 to 1987. He contributed many articles to the MAC newsletter. David received the MAC ARS Bronze Medal in 1988, and the MAC Distinguished Service Citation in 2003. David is survived by his wife Mary Lloyd, his children, and grandchildren.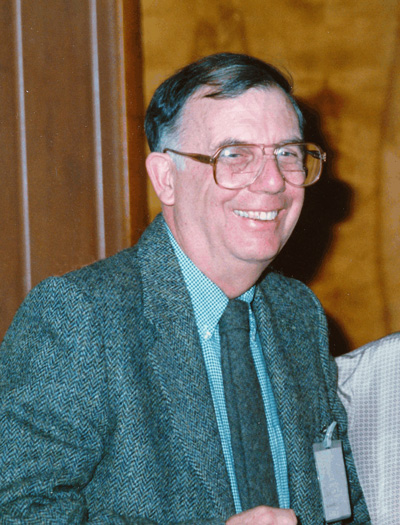 John Smith
John Smith, 84, of Stuart, Virginia, died on November 7, 2011. He was a graduate of Emory University with a BS degree in mathematics. He served with the Merchant Marines, and had retired as a cryptologist with the National Security Agency where he worked from 1950 through 1985, then later as an encryption consultant for E-Systems. He loved growing azaleas and rhododendrons and was a Master Gardener in addition to being a member of MAC since 2000. He is survived by his wife Carolyn, and children, grand children and great grandchildren.

Jane McKay
Jane McKay, 76, of Palymra, Virginia, died suddenly on November 15, 2011. In 1992 Jane and her husband Wally moved down to Palmyra, Virginia, from New York where they had been long time members of the New York Chapter ARS. Wally had retired from the US Postal Service. Jane was an associate member of MAC starting at least in 1988 and later moved her primary membership to MAC from the NY Chapter. Jane had been interested in azaleas, rhododendrons and other plants going back into the 1960s when she would attend NY Chapter ARS meetings with her father. Jane worked at Sandia National Laboratories in New Mexico in the early days of her marriage while Wally was stationed in New Mexico in the service. She knew many of the well-known rhododendron people in NY from that era. Jane had served a term as New York Chapter president, and was awarded the Bronze Medal by the NY Chapter. Jane was also active in the Holly Society of America in both the chapter in New York and later in the Colonial Virginia Chapter. She belonged to several other plant societies. Jane served as Registrar for the 1999 Eastern Regional Meeting hosted by MAC which drew 257 attendees.. She was on the MAC board of directors for many years and also served as Membership Chairman for 13 years. She wrote a column in our chapter newsletter which was popular with the membership. Jane received the Certificate of Appreciation from MAC in 2004, and then received the Bronze Medal from MAC in 2008. Jane is survived by her son Darren McKay of Holbrook, NY, his wife, and children.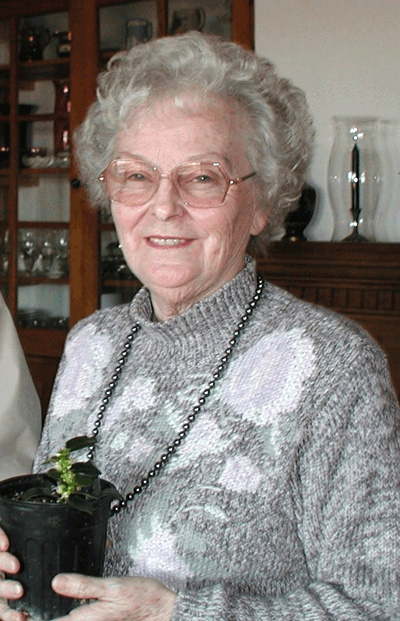 Celia Porter Dollarhide
Celia Porter Dollarhide of Alexandria and Madison County, who served as Director of the Education Service of the Department of Veterans Affairs before retiring in 2001, died on Thursday, December 6, 2012, at her home in Alexandria, Virginia.
Mrs. Dollarhide began her 34 year career at the Veteran's Administration as a claims examiner at the Chicago Field Office in 1966. After moving to Washington, in 1972, she held various management positions within the Veterans Benefits Administration including Chief of the Program Administration Division and later Deputy Director of the Education Service. In 1994, she was promoted meritoriously to the Senior Executive Service and appointed Director of Education Services. A strong believer in the power of individual empowerment, she was a major proponent of enhanced education benefits for veterans and was instrumental in developing new legislation to further that goal. Her career was devoted to three different GI Bill programs, affecting hundreds of thousands of veterans. Throughout her career, Celia received numerous awards and professional recognition for her advocacy and leadership on behalf of veterans and their survivors, including the Department of Veterans Affairs Distinguished Career Award and the Department of Labor's Sonny Montgomery Award for significant contributions in support of veterans. She was the first recipient of the Bill Pearson Outstanding Lifetime Achievement Award, named for the Veterans Benefits Administration's deputy Under Secretary. At the VA, Mrs. Dollarhide spent her working days seated behind the large lawyer's desk that had belonged to her husband Charles "Lew" Dollarhide who also served as the Director of the Education Service from 1980 until 1986. Mr. Dollarhide died in 1993.
The daughter of General Robert William Porter Jr. and Margaret Trumbull Porter, Mrs. Dollarhide was born at Fort Riley, Kansas, on January 4, 1940. She attended high school in Arlington, Virginia and Fort Knox, Kentucky; graduated from Frankfurt American High School in Frankfurt, Germany; and earned a B.A. at Grinnell College, in Grinnell, Iowa, in 1961.
After her retirement, Mrs. Dollarhide devoted herself to managing Middle River Farm in Madison County, Virginia. She was an active member and past president of the Middle Atlantic Chapter of the American Rhododendron Society, a founding member of the Piedmont Landowners Association, and received awards from the Virginia Department of Forestry for her activities promoting forestry stewardship and conservation. She was instrumental in placing Middle River Farm into a conservation easement just prior to her death. She was an active member of Soroptimist International of Washington, D.C., served on the board of Mount Carmel House in Washington and was a member of Piedmont Episcopal Church in Madison. Survivors include her brothers, Henrik P. Porter MD, of Camas, Washington, Robert W. Porter III and Debra of Burke; sister, Susan P. Walker and Earl of Charleston, South Carolina; niece, Kathryn M. Walker of Chicago; nephews, Lieutenant Colonel Allen D. Walker and Diane of Arlington, Jacob D. Porter and Molly of Fairfax; and Jeffrey R. Porter of Burke.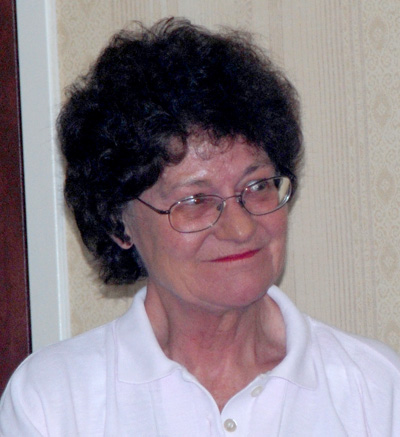 Sybil C. Przypek
YORKTOWN - Sybil C. Przypek, 76, passed away peacefully on Thursday, July 25, 2013. Sybil was a native of North Carolina and a Yorktown resident since 1976. She was the daughter of the late W.B. and Winnie Cannon and was one of nineteen children. She retired from Fort Eustis in 1986 after 25 years of service. She was a York County Master Gardener and founder of the York County Learning Garden and Arborteum. She was a charter member of the Hampton Roads Horticultural Society, Azalea Society of America, Colonial Virginia Chapter of American Holly Society, and a member of the MAC Chapter of the American Rhododendron Society where she was a former President, Vice President and also served in other official positions. Sybil was honored with the highest MAC chapter award, the Bronze Medal. Sybil enjoyed and embraced the life of an Air Force wife and made many lifelong friends throughout their travels. She will be loved and missed by all that knew her. Sybil is survived by her loving and devoted husband of 55 years Walter; her daughters, Suzanne James and her husband Scott of Yorktown and Nancy Christopher and her husband Wally of Poquoson; 7 grandchildren, Heather, Jake, Kayleigh, Kevin, Lora, Kelley and Ashley and a great grandson, Thomas. A funeral service will be held at 1:00 PM on Monday, July 29, 2013 in Amory Funeral Home Chapel by Rev. David Hampton. Burial will follow in Peninsula Memorial Park. The family will receive friends on Sunday from 5:00 to 7:00 PM at the funeral home. Memorials may be made to the York County Fire and Life Safety P.O. Box 532, Yorktown, VA 23692.
Published in Daily Press on July 27, 2013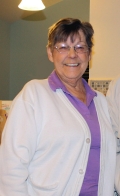 Mavis Haywood