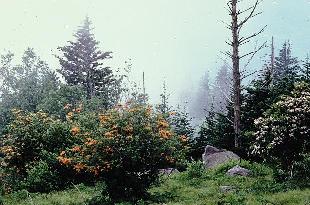 Welcome to the Home Page of the Middle Atlantic Chapter (MAC) of the American Rhododendron Society (ARS). Our chapter is located in the Middle Atlantic region of the United States, which for MAC includes most of Virginia and all of West Virginia except for the northern one-third.
On the pages of our web site you will find information about:
Hooper Bald Project Summer 2012--slide show (4.6Mb pdf file)
Our Calendar of Events
Flower and Foliage Show Results
Proven Performer Plants
Rhododendron of the Year Award Plants
New P4M Plants
Plant Sources
Seedlings and Auction Plants
Books
Cultural Practices
Propagation Techniques
Pest Remedies
Gardens and Natural Areas
Photo Gallery of Rhododendrons and Azaleas
Photo Gallery of Native Azaleas
In Memoriam--deceased MAC ARS members
If you are interested in becoming a member of our chapter, you may join online through the American Rhododendron Society, or contact our MAC membership chairperson directly. ARS regular (individual and family) membership is $40 per year, includes four issues of the informative and beautiful Journal of the American Rhododendron Society, along with the opportunity to attend regional and national conferences and conventions, access to the ARS seed exchange and pollen bank, and membership in our chapter. If you are already a member of another ARS Chapter, you may join the Middle Atlantic Chapter as an Associate Member for $10 per year.

The Chapter thanks Don Hyatt for his assistance in developing this web site and allowing us to use his web site page layouts and photographs.
Highlights and photo gallery from the 2007 District IX meeting are now available HERE!
Photos from Spring MACARS Meeting in Canaan Valley Resort & Conference Center, WV
June 6-8, 2008 Gallery now posted
Photos from Spring 2011 MACARS Meeting in Norfolk, VA April 15-17 Gallery now posted