District 9 Meeting In Richmond, April 2007 by Sandra McDonald

The ninety-six attendees at the District Meeting in Richmond on April 12-15 had a wonderful time, visited some very special gardens, heard entertaining speakers, and enjoyed a free plant swap.

Most of us saw for the first time the garden of Charles Reed based on the English park design by Charles Gillette. There were many "rooms", formal flower beds, shrub garden, rose garden, and more.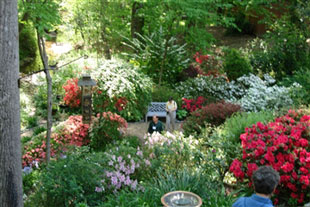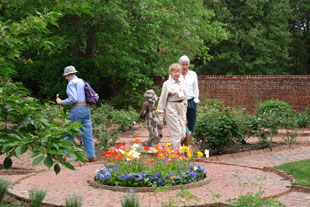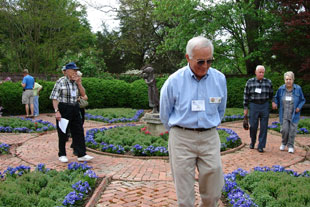 The Junko Liesfeld garden was also a new one for MAC members. The acreage was quite large, and the garden had artistically combined the five elements of Japanese gardens (stones, water, plants, ornaments, and structures). It was a very peaceful garden.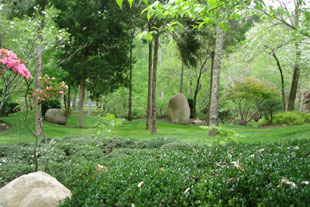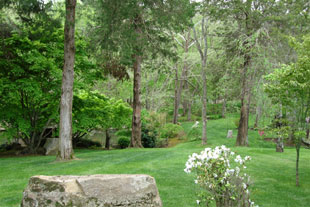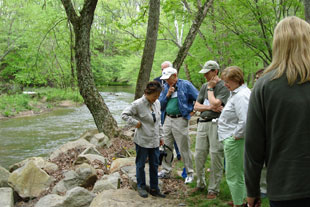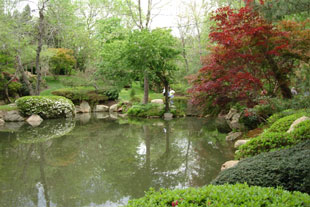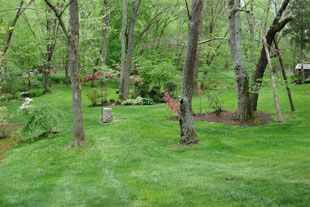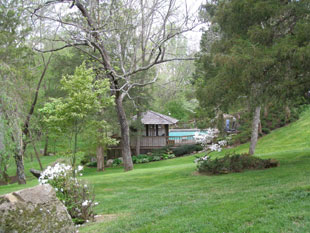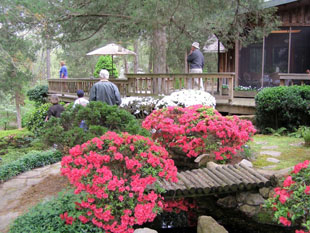 The Greene garden was smaller, but full of interesting plants landscaped on a steep hillside with a stream at the bottom.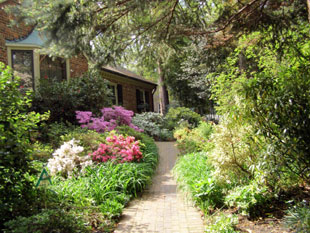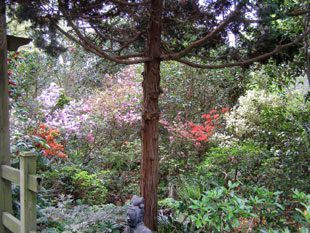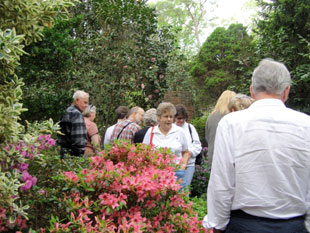 Rosalie Nachman's garden was as beautiful as ever. She manages to artistically arrange a lot of plants in a rather small space.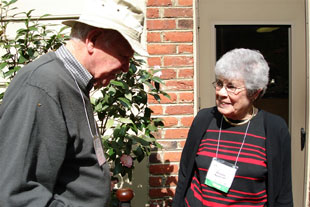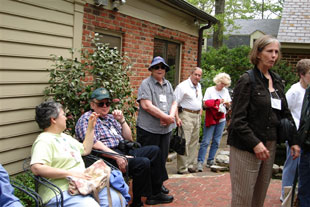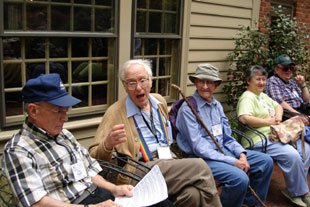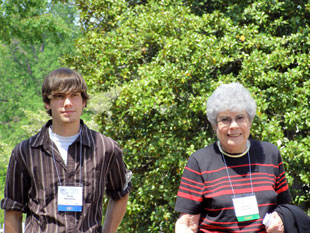 And of course, Lewis Ginter Botanical Garden was lovely and is getting even better as it matures.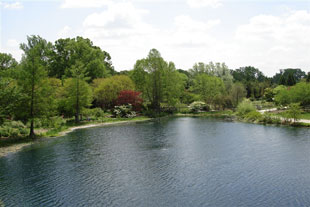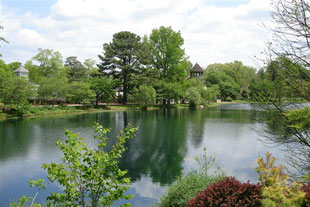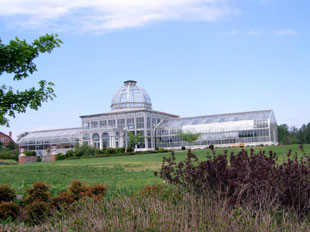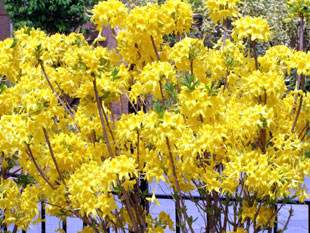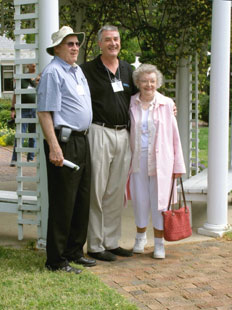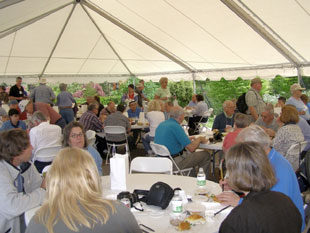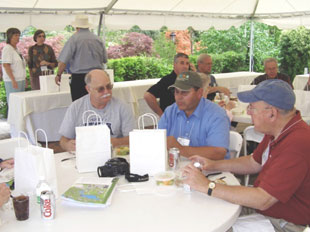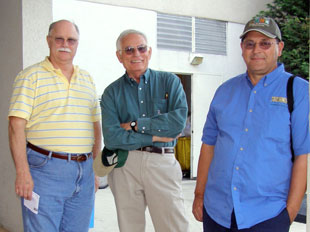 And of course, Lewis Ginter Botanical Garden was lovely and is getting even better as it matures.

On Friday evening Rosalie Nachman's talk was humorous and her slides were beautiful. We also saw a good movie about gardens and gardeners in the Richmond area. Rosalie was interviewed in that as well as several of the other gardeners.

Barbara Hall's new activity, a plant swap, took place on Friday evening. People were excited about getting different kinds of new plants.

Buddy Lee gave an interesting presentation on breeding for heat tolerant azaleas and rhododendrons. He had photos of several breeders with this goal and their work.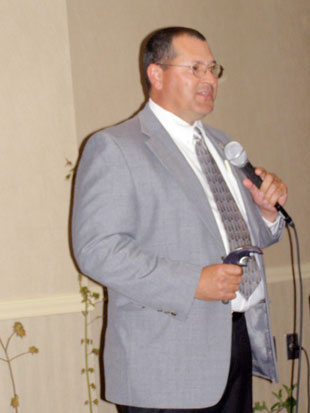 Some announcements were made including George McLellan's receiving the Silver Medal in San Francisco .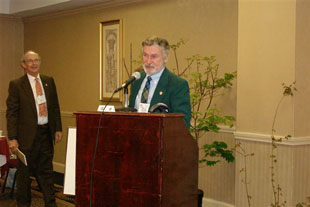 Bill Bedwell conducted a very successful plant auction that included a number of rare Japanese maples and magnolias donated by the David and Mary Lay.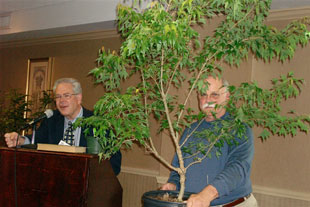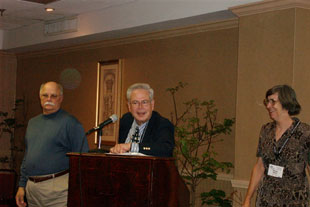 We had our usual book sale with Theresa Brents as chairman, and our Flower Show with chairman Sharon Horn.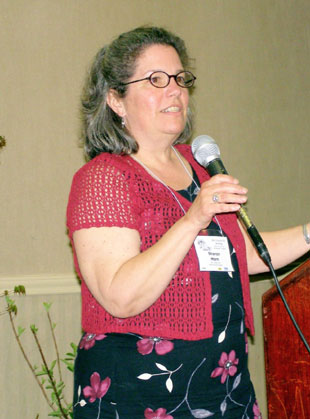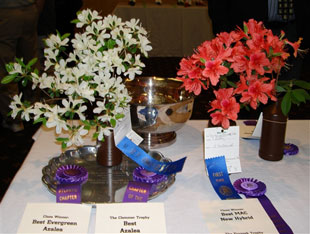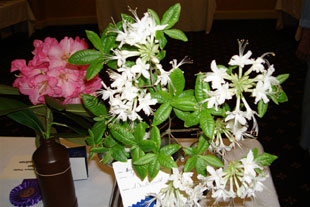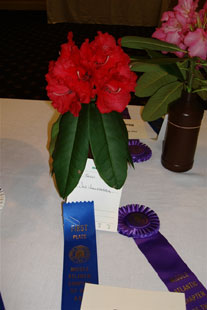 Winners of the flower show were:
• D.D. Withers Best Rhododendron Award–Bill Bedwell for 'John C. White'
• Clemmer trophy for Best Evergreen Azalea– Sandra McDonald for 'White Surprise'
• Kennell Trophy for Best Native Azalea – Sandra McDonald for R. alabamense
• Best Elepidote – Jon Wallenburg for 'Taurus'
• Przypek New Hybrid Azalea trophy–Sandra McDonald for unnamed orange evergreen azalea
• Best Lepidote and Wheeldon Best in Show trophy – the Fellers for 'Ambrose Light'
And of course everyone had a good time with good food and old friends!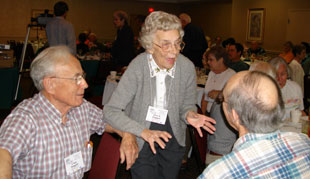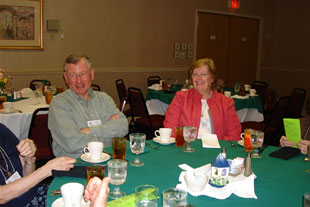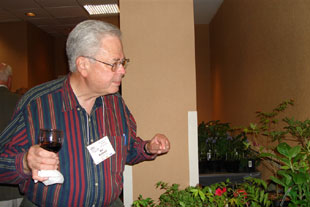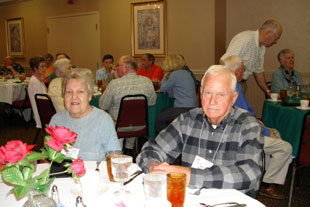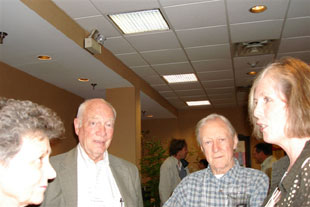 Photos courtesy of Sandra McDonald and Walter Pryzpek