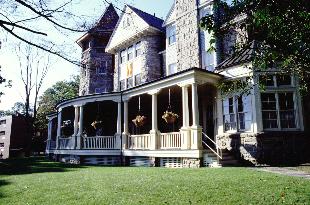 The Middle Atlantic Chapter of the American Rhododendron Society held its fall meeting at the quaint Graceland Inn and Conference Center on the campus of Davis and Elkins College in Elkins, West Virginia. Attendees enjoyed the usual great friendship, rare plants,excellent talks and fine food, but the real treat was to be in West Virginia to experience the glorious fall foliage.
Saturday's field trip took us to the Dolly Sods Wilderness Area where we had a chance to appreciate the bright red foliage of the vaccinium plants (wild blueberry) against the rock outcroppings and evergreens. A number of maples were in peak color at this elevation above 4000 feet, and huge clusters of bright red berries of the Mountain Ash added to the brilliance. Our group had a chance to visit the cranberry bogs on the top of Dolly Sods, and we also were able to collect a few seeds of the native azalea, Rhododendron prinophyllum, formerly known as R. roseum. After sharing our lunch with pesky yellow jackets that were apparently trying to get their last meal before winter moved in, we hiked out to the highest point on the mountain to appreciate the views overlooking Canaan Valley. We were not alone there either, since by afternoon crowds of people had also come to the mountain to see the views. Photographers had to be extremely patient in order to get a picture of this "wilderness" so that it didn't look like a trip to the mall.
On Sunday, conference attendees headed off in smaller groups to tour nearby scenic areas on their way home. My group headed south to visit Beartown State Park, a small but ethereal setting of huge limestone outcroppings that have broken apart over the centuries. Part of Droop Mountian, this stunning geological formation is gradually sliding down into the valley as the mix of sandstone and limestone erodes over time. To keep tourists from damaging the delicate ecology, the state has constructed an incredible maze of wooden walkways and decks among the boulders so that the region can be visited, but not disturbed. All of us who toured Beartown agreed that there is a spiritual feeling here; we had entered one of nature's grand and solemn cathedrals. As we meditated in the peaceful setting however, some of us kept a watchful eye for those bears, since the name of the park obviously refers to the frequency that bears in the region use those dens and caves for winter hibernation. On this 75 degree day it was certainly not winter yet, but we wondered if bears might be checking out the local accomodations.